Joker/Mask #4 was first published in August 2000.
Joker gets irritated and pushes the mask against the face of the man who soon transforms. Batman appears suddenly and Joker turns into Big-Head. As Batman is no match for the new Joker, he uses his psychology and manages to trick Joker into removing the Mask claiming that the villain is not so funny in that way, Joker has a small crisis with himself and ends up removing the mask, Batman attacks him and Joker is soon arrested.
Lieutenant Kellaway appears and asks that Batman give him the mask claiming that he will get rid of it forever. Batman agrees and Kellaway goes to the grave of Stanley Ipkiss, where he opens the coffin and throws the mask next to Stanley's body.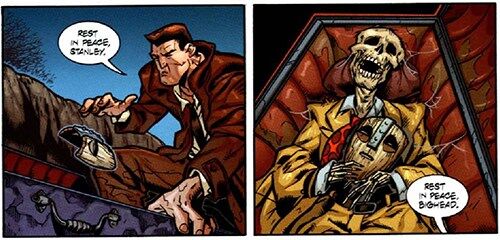 Community content is available under
CC-BY-SA
unless otherwise noted.